Dive Shop
Making Water Fun!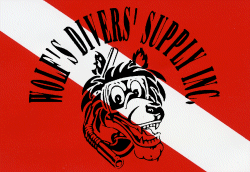 Wolf's Divers' Supply is one of the oldest SCUBA diving stores in the country, having been in business since 1956.
We offer a full line of products for the diver, including new and "experienced" (used) items, featuring equipment by Aqualung (US Divers), Tusa, Harvey, Viking, Zeagle, Bare, Sealife and many others.
Check out our classes, trips and other information for divers. For more details, please call us by phone, email or stop in our store.
250 W Main St
Benton Harbor, MI 49022
(269) 926-1068 Fax: (269) 926-1731
wolfsdivers@wolfsmarine.com
Store Hours:
Mon-Fri: 9:00 - 6:00
Sat: 9:00 - 5:00
Sun: Closed
Nov. 1st - March 1st Closed on Mondays